The Origin of Christmas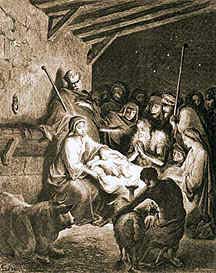 Christmas is the celebration of the birth of Jesus, the Savior of the world. Here is the biblical account from Luke chapter 2.
1: And it came to pass in those days, that there went out a decree from Caesar Augustus, that all the world should be taxed.
2: (And this taxing was first made when Cyrenius was governor of Syria.)
3: And all went to be taxed, every one into his own city.
4: And Joseph also went up from Galilee, out of the city of Nazareth, into Judaea, unto the city of David, which is called Bethlehem; (because he was of the house and lineage of David:)
5: To be taxed with Mary his espoused wife, being great with child.
6: And so it was, that, while they were there, the days were accomplished that she should be delivered.
7: And she brought forth her firstborn son, and wrapped him in swaddling clothes, and laid him in a manger; because there was no room for them in the inn.
8: And there were in the same country shepherds abiding in the field, keeping watch over their flock by night.
9: And, lo, the angel of the Lord came upon them, and the glory of the Lord shone round about them: and they were sore afraid.
10: And the angel said unto them, Fear not: for, behold, I bring you good tidings of great joy, which shall be to all people.
11: For unto you is born this day in the city of David a Saviour, which is Christ the Lord.
12: And this shall be a sign unto you; Ye shall find the babe wrapped in swaddling clothes, lying in a manger.
13: And suddenly there was with the angel a multitude of the heavenly host praising God, and saying,
14: Glory to God in the highest, and on earth peace, good will toward men.
15: And it came to pass, as the angels were gone away from them into heaven, the shepherds said one to another, Let us now go even unto Bethlehem, and see this thing which is come to pass, which the Lord hath made known unto us.
16: And they came with haste, and found Mary, and Joseph, and the babe lying in a manger.
17: And when they had seen it, they made known abroad the saying which was told them concerning this child.
18: And all they that heard it wondered at those things which were told them by the shepherds.
19: But Mary kept all these things, and pondered them in her heart.
20: And the shepherds returned, glorifying and praising God for all the things that they had heard and seen, as it was told unto them.
Read the whole account of the facts surrounding Jesus' birth in Luke 1 and 2
Read Matthew's account beginning in Chapter 1, verse 18 Matthew 1 and 2
But what are the origins of other celebrations and customs surrounding Christmas?
Origin of Christmas - The Controversies
The date of December 25th probably originated with the ancient "birthday" of the son-god, Mithra, a pagan deity whose religious influence became widespread in the Roman Empire during the first few centuries A.D. Mithra was related to the Semitic sun-god, Shamash, and his worship spread throughout Asia to Europe where he was called Deus Sol Invictus Mithras. Rome was well-known for absorbing the pagan religions and rituals of its widespread empire. As such, Rome converted this pagan legacy to a celebration of the god, Saturn, and the rebirth of the sun god during the winter solstice period. The winter holiday became known as Saturnalia and began the week prior to December 25th. The festival was characterized by gift-giving, feasting, singing and downright debauchery, as the priests of Saturn carried wreaths of evergreen boughs in procession throughout the Roman temples.
Variations of this pagan holiday flourished throughout the first few centuries after Jesus Christ, but it probably wasn't until 336 AD that Emperor Constantine officially converted this pagan tradition into the "Christian" holiday of Christmas. The word "Christmas" is a combination of the words "Christ" and "Mass." The word "Mass" means death and was coined originally by the Roman Catholic Church. The ritual of the Mass involves the death of Christ, and the distribution of the "Host", a word taken from the Latin word "hostiall," meaning victim. In short, Christmas is a Roman Catholic word of Roman Empire origin.
What are we to do?
Some Christians believe that Christmas should not be celebrated because of it's pagan origins. Others celebrate it for what it means to them, regardless of how it originated. Sadly, throughout most of the world, although Christmas is vaguely viewed as a religious holiday, Jesus has been forgotten, and the traditions surrounding Christmas have provided the basis for a secular Winter festival of celebration and gift giving. As Christians, any gift-giving, decorating, or feasting, should take second place to what Christmas is all about - the celebration of Jesus' birth. Indeed, not only Christmas, but every day, should be a rememberance of not only Jesus' birth, but his death and ressurection as well, and the salvation he has provided to us.
Origin of Christmas Cards
The custom of sending Christmas cards started in Britain in 1840 when the first 'Penny Post' public postal deliveries began. (Helped by the new railway system, the public postal service was the 19th century's communication revolution, just as email is for us today.) As printing methods improved, Christmas cards were produced in large numbers from about 1860.
St. Nicholas, Father Christmas and Santa Claus
'Father Christmas' (or 'Santa Claus') has become the human face of Christmas. Pictures are seen everywhere of the old man with long white beard, red coat, and bag of toys. Children are taught that he brings them presents the night before Christmas (or in some countries on December 6th - St. Nicholas' Day), and many children up to the age of 7 or 8 really believe this is true. In most countries, it is said that he lives near the North Pole, and arrives through the sky on a sled pulled by reindeer. He comes into houses down the chimney at midnight and places presents for the children in socks or bags by their beds or in front of the family Christmas tree.
Father Christmas is based on a real person, St. Nicholas. Born in 280 AD in Asia Minor, St. Nicholas was a Christian Priest who later became a bishop. He traveled extensively and being of good wealth, was given to presenting gifts of money and other presents to perfect strangers, as well as acquaintances. Never wanting to be found out, he left his offerings in the homes of his receivers only after dark, when all were in bed asleep. And to this day, those who believe in Santa Claus are still warned that if even one peep or footstep is heard, St. Nicholas will not leave the treasured surprises that are anxiously awaited.
Back to other Christmas resources
---
More From ChristiansUnite... About Us | Privacy Policy | | ChristiansUnite.com Site Map | Statement of Beliefs
---
Copyright © 1999-2019 ChristiansUnite.com. All rights reserved.
Please send your questions, comments, or bug reports to the